Introduction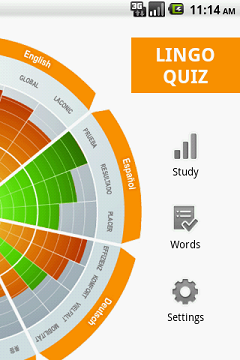 Lingo Quiz is an Android flash card application for advanced learners who wants to break a limits of fixed wordlists or manual typing of new words and translations.
With this program everything can be treated as source of new words. Import new words from friend's SMS, from new book in PDF format, from interesting page in Wikipedia on language you are studying now.
Leave paper dictionaries in the past. Leave manual typing there as well. Google Translation API is the best way to translate new words on the go. Translate dictionaries as well as particular words.
It is hard to find proper set of word to study when you are starting, but you can reuse knowledges and work of people who already created complete dictionaries for you. Import dictionaries of most popular programs like Abbyy Lingvo, AnyMemo, Vocabilis or at least use your handy laptop or desktop to prepare you own dictionary in Excel or Calc to import it later.
Share your own work with export dictionaries function. They will be exported to simple and readable CSV format. Send them to your friends or make backups, publish them on your own website or send to me to publish it with with your name in front.
Worth your time and use integration to external programs. Check word translations in ColorDict or Fora Dictionary, fill up you dictionaries with new words from FBReader.
Study words in most appropriate way. Choose 'match pair' mode if you want to limit a number of unknown words by associations. 'Find answer' mode is for those who are ready to find correct answer within a set of random ones. Select 'type answer' if you are professional and want to keep words in your mind forever.
It is no a secret that constant repetition and right schedule can significantly improve your learning process. Study scheduler helps you to track new session time.
Start with set of predefined dictionaries for popular languages: English (IELTS), Spanish, Italian, Portuguese, French, German, Russian, Czech, Polish.
Let application to use the default language of your Android in interface if it is supported now. Or change interface language to one from the provided list that is going to grow from time to time.
Lingo Quiz is designed to be simple and useful, but if you think that some functionality is missed or works not perfectly do not hesitate to leave your feedback. I sure you will like this program!
Features
Full-text search
Study scheduler
Bidirectional study
Three types of studying
Import from dictionaries
Import from web-pages
Export to CSV

Multilingual interface
Automatic translation *
Words pronunciation **
Set of default dictionaries
Integration with FBReader
Integration with Fora Dictionary, ColorDict
Import from plain files (PDF, TXT...)

*

By Google and Microsoft API

**

By Android Text-To-Speech